Wow! This week's restaurant adventure was really fun! We had never experienced food from Ethiopia so it was extra exciting!
The restaurant itself was pretty big and the walls were painted a very cool neon green-yellow color. There were giant paintings of Ethiopia everywhere
and neat little round "basket tables" which is the traditional way of serving the food in Ethiopia.
First, we ordered a "mango drink" that the kids loved!
Especially Pickle!
We ordered a really tasty appetizer called
Sambusa
which were pastries stuffed with meat or chicken and served with lemons and a sweet dipping sauce. Oh, they were good!!
Then we ordered a sampler platter of meat and vegetarian entrees. It included beef, lamb, chicken, spinach, okra and cabbage. It arrived on a giant round platter:
The really cool thing about Ethiopian dining is that there is no silverware! You use the bread, or
injera,
broken into small pieces, to scoop up the food. This signifies the "bonds of loyalty and friendship."
The bread was really interesting--kind of a sponge-like consistency and, as you can imagine, the kids loved using it as a "utensil"!
Another interesting thing about Ethiopian culture is called
gursha
which means "placing the food in the mouth of another diner from one's own hand." The kids totally went crazy with this and had to make sure they all fed each other!
Here is Gooser getting a bite:
For dessert there was a delicious treat called "My Happiness" which was a pastry filled with raisins, pistachios, almonds, coconut and cardamon powder. OMG--it was fantastic!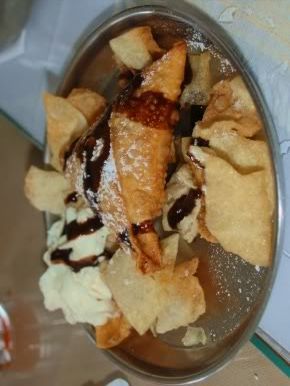 Another interesting thing we learned is that Ethiopia is the birthplace of coffee:
I didn't order any coffee--but wanted to try the tea which was delicious and spicy!
Pickle says "Big thumbs up, Ethiopia!!"
Click
here
for last week's adventure!