I'll be honest--Spanish food isn't exactly an adventure for us--we have it from time to time, but we are running out of cool restaurant ideas! I can't do Thai or Indian as an adventure because those cuisines are practically staples around here. Well, maybe we'll do those anyway just for fun and try to experiment with some foods we've never tried? Anyway, on to tapas!!
This meal was sort of a comedy of errors. For one thing, Spiderman joined us which is always exciting!
We decided to sit out on the pretty patio because the weather was so nice. But then the skies started to look menacing...
Then it started raining...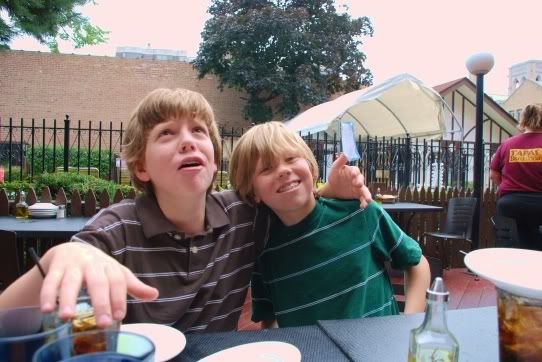 Even though everyone else on the patio started fleeing for the indoors, we perservered. The Macarena started playing which is Spiderman's favorite song--so he got up to dance!
Then the food started arriving. Of course with tapas, you gets lots of little plates of food. Our first one is my favorite--dates wrapped in bacon.
Then came Spanish cheese, quince and almond plate.
Pickle was enjoying everything--especially the bacon!
She brought her monkey along. But she calls it a bug.
More food--goat cheese in tomato sauce.
By now, the rain was coming down pretty hard and we had no choice but to move our show inside. Here is a portrait of my rain-splattered plate. I don't even remember what that food item was--some kind of Spanish-style bruschetta?--but it was good!
Oh, and there was pizza! This one had (more) bacon and caramelized onions.
This one was the absolute best! Squid with lemon.
Here's Gooser Squid-face
And a rare picture of me--again with the squid.
Oh, let's see...there was beef with horseradish...
And empanadas with lamb...
And lots of other things I didn't get a chance to take pics of. There was a LOT of food!! So much for my diet...
The kids started getting punchy...
And Gooser almost choked on some squid, but thankfully he was ok! (Although I screamed and scared the entire restaurant.)
All in all, it was a wacky meal! But fun!
Pickle says: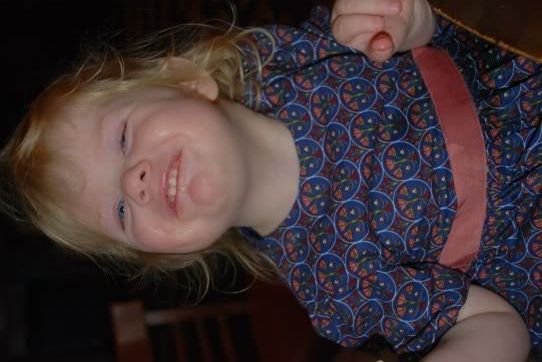 "This lunch was a freak show!!"