As I've said before, Indian food isn't exactly an adventure for us. Basically, I'm addicted to it! I've even taken an Indian cooking class and I can whip up some of the delicacies myself--include my own spice blends! I can make garam masala! And ghee! But I'm running out of restaurant adventure ideas plus I needed an Indian food fix--so off we went! But first, a couple of interesting tidbits:
**Interesting run-in I 've had with Indian food #1: I ate a huge Indian dinner when I was in labor with Pickle. It was a Sunday and I had been feeling pains all day long but I wasn't sure if it was bad enough to go to the hospital. I had the brilliant idea to go out for Indian food because I had read that the spices could help labor kick in.
Don timed the contractions all through the dinner--they were five minutes apart. By the time we left the restaurant we decided I had better get to the hospital. Right as we got to the car I could feel my body "rejecting" the crazy heavy meal I had just eaten and I literally "lost my lunch." Yeah, I was definitely in labor! Words of wisdom: Don't eat a giant Indian meal when you think you're in labor. It won't end well!
**Interesting Indian food run-in #2: I used to go to a great place in NYC called Nirvana--a tiny restaurant with probably the best Indian food I've ever tasted. It was at the top floor of a building that overlooked Central Park and had breathtaking views.
One night I was eating there with my mom and siter and Sylvester Stallone was sitting at the very next table with two blonde bimbos. I was so excited because I was (and still am) a HUGE Rocky fan. So technically, I've had Indian food with Rocky! Oh, and while I'm thinking of it, I've also been to a movie with Ah-nold Schwarzenegger (and Maria Shriver). Well, I sat behind them at a movie, but still...
Am I ever going to get to the adventure? Finally!
To mix things up a little, we went to an Indian restaurant we'd never been to before--it had received excellent reviews.
It was a tiny hole-in-the-wall-type place and we were the only ones there. The waiter was semi-unpleasant--I don't think he liked the idea of me and my pack of rug rats in there!
Pickle started out in a relivately good mood...
...but she descended into fussiness (much to the waiter's dismay) soon after.
I did everything in my power to keep her happy. She smelled the flowers about a million times.
She kissed her cat.
And I plied her with mango lassis (one of my favorite things--mango and yogurt drinks. I'm addicted).
But nothing worked. She was not a happy camper.
We tried to enjoy the food anyway. Teddy wanted soup--chicken mulligatawny. I didn't try it but he said it was delicious. He also had a spicy masala tea--which I think is basically chai tea.
For an appetizer we had the amazing vegetable samosas. Delicious pastry filled with potatoes, peas and other veggies. This is one of my favorite things and also one of the recipes I can make!
Their chicken tandoori was fantastic!! Some of the best I've ever had. This chicken is marinated in yogurt, coated with spices and cooked in a tandoor. If you've never tried it--please do so soon! It's really delicious!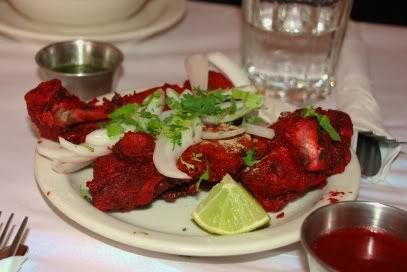 The tandoori was Pickle's favorite dish!
We had another favorite--a crispy flavorful bread called poppadum. (That's Pickle's "cell phone" next to the bread).
We had a tasty dish called lamb biryani--it has chunks of lamb, rice , spices and vegetables.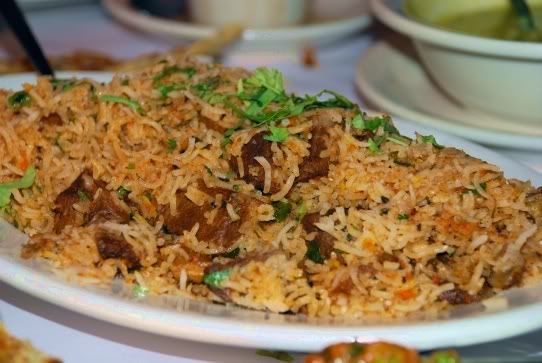 And because Pickle loves rice so much--another rice dish with peas:
Here's a tasty yogurt sauce that we put on everything!
All the while I was eating (or attempting to), I was trying to keep Pickle calm. She was on the verge of hysteria the whole meal!
I tried to amuse her with her cat (meow-meow). The cat was in the flowers.
And on the chicken.
But nothing worked--we had to get out of there STAT. I didn't even get pics of some of the food--sorry!
We didn't get to have dessert (unfortunately)--there were some really cool-sounding desserts that I'd love to go back and try--maybe sans Pickle! Instead, we went to a Pinkberry rip-off which we call Fakeberry. Pinkberry is one of my very favorite places (it's Asian-style fro-yo) but, alas, they don't have them in my neck of the woods so we are stuck with Fakeberry.
But it's better than nothing.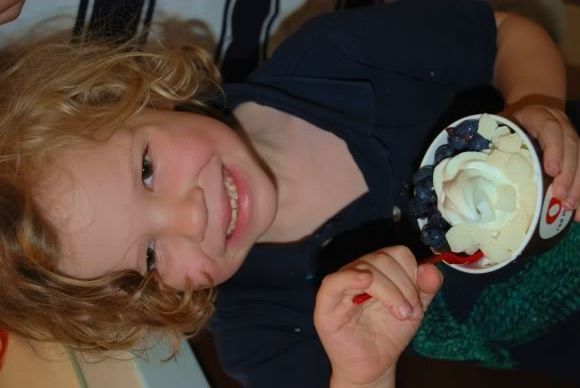 Poor Pickle cried the whole way home.
Pickle says:
"Dude, I thought I made it clear in utero: Lay off the vindaloo!"