Wow--this was our wildest restaurant adventure yet! I'd never had Korean food before, so I didn't know what to expect--it was a crazy ride!!
First, this ominous-looking sign on the door:
The little parking area was right in front of the restaurant--how dangerous a neighborhood were we in??
Everything about this place was a little overwhelming. The drink menu basically gave you the choice of either "hard liquor" or Coke. I opted for water, but towards the end of the meal, the hard liquor was looking pretty appealing! Wait a minute--I just noticed this when posting the pic--the hard liquor was $59.95??? What the...?
The menu was very confusing and the waitress seemed impatient for me to order. I hurridly ordered some kind of beef, something simply called "bacon", and baby octopus. Every time I ordered an item the waitress kind of gave me a "you don't really want that" look. It was all kind of unnerving!
Then this was placed on the table:
A giant bowl of red-hot charcoal. Along with these:
Dozens of little bowls filled with mysterious mysteries!
One of them contained teeny tiny fish:
The kids were surprisingly into these and finished the whole bowl!
Even Pickle liked them!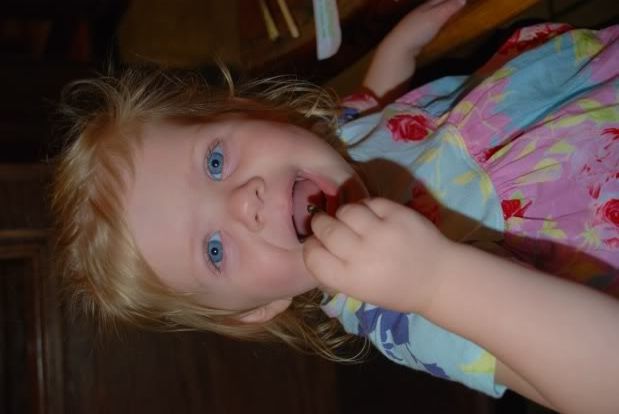 The other big hit was this bowl of weird gelatin-like "noodles." But they were crunchy...and salty! When I asked the waitress what they were she simply said "Jell-O."
The kids all totally loved those!
Suddenly, a big platter of raw meat arrived. I asked the waitress if I was supposed to cook it and she handed me a giant pair of tongs.
This is where things got a little scary! And the food just kept coming...
The bacon was--surprise! A big slab o' bacon!
My cooking-bacon-over-hot-coals-skills are lacking, I think:
Way too much smoke and uneven cooking. I think I served some of the kids semi-raw bacon. Please cross your fingers we don't all get trichinosis! Also, the bacon was not that good--it wasn't "smoked" (except for the smoke from my poor cooking skills) like we're used to bacon tasting--so it was kind of bland. But the beef!! OMG! The beef was delicious--we ended up ordering more.
Then the octupus arrived: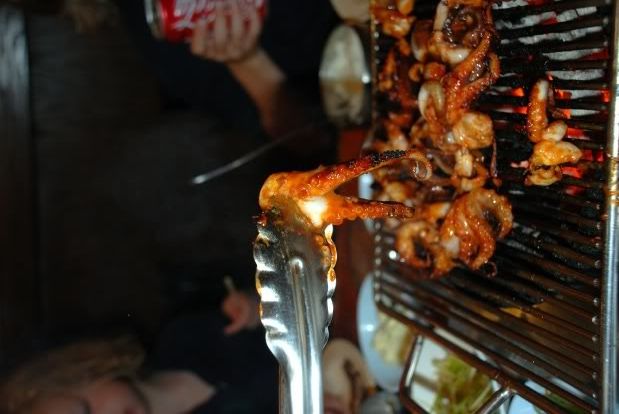 And luckily my grilling techniques were improving. Look at me grilling and taking pics at the same time! The octo was SPICY but very good.
At one point the waitress inexplicably handed me this giant pair of scissors.
I was like "Oh, thank you!" But I had no clue what I was supposed to do with them. Cut something, I guess?
Gooser seemed overwhelmed by the whole experience, but he ate everything!
And Teddy got creative with some lettuce.
We are definitely going to have to go back here. For one thing, I didn't come close to exploring the menu--there was stuff on there like "Spam casserole" and "goat meat with vegetables." Also, the next time around I think I'll be better at grilling--plus I won't order the bacon.
Pickle says:
Korean food? Bring. It. ON!!